The Backwoods Boys are back at it again, adding two new and exciting DVDs to our popular library - Back In The Woods 5 and Bears In The Backwoods 2.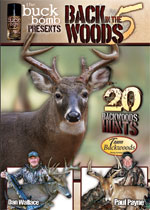 Back In The Woods 5
The fifth season of the popular Back In The Woods season was especially productive for the Backwoods Boys. Back In The Woods 5 includes 20 hunts over the course of an hour and a half. During this exciting whitetail hunting DVD you'll see crossbow, bow, rifle, shotgun and muzzleloader hunts for trophy whitetails in Ohio, Kentucky, and Tennessee.
And there's even more in the Extras section, including Dan's Ontario moose hunt with Bud Dickson at Canoe Canada and the introduction of a hot new buck call from Woods Wise. See the preview here.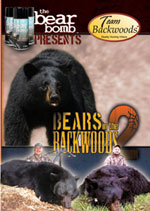 Bears In the Backwoods 2
And, since we couldn't get enough in our first season, we're back at it again with the second installment of Bears In the Backwoods. On this action-packed DVD you'll join the Backwoods Boys in Newfoundland, Saskatchewan, Manitoba, Quebec, and Ontario on 14 trophy black bear hunts.
Even if you've never bear hunted before, you won't want to miss a second of the 90-minutes of black bear hunting action. Fair warning though, once you've watched it, you'll be packing your bags and heading north. See the Preview Here.
Both of these new releases, along with the rest of our reality hunting DVD library are available now in the Backwoods Store. You can catch previews of both new releases on BackwoodsTV.