Watch the video of Carla's hunt on BackwoodsTV.
For the last 5 years we've been hunting black bears with our good friends at Black Bear Adventures at Dog Lake Resort. And there's good reason for it too... they've got plenty of quality bears, top-notch accommodations, and one of the most beautiful settings in northern Ontario. It's become a home away from home for the Backwoods Boys.
So, when Karl and Bill's wives, Carla and Amber, decided they'd like to give bear hunting a try, we couldn't think of a better place to take them than Black Bear Adventures. So we called our good friend, Paul Delpino, to book our hunt for the fall Ontario bear hunting season.
After years of hearing the stories about Black Bear Adventures, the girls were anxious to get into camp. After a long ride north, the Carla and Amber settled into the cabin, got their licenses and tags, and checked the Excalibur Crossbows to make sure they were ready... and boy were they ever.
As usual, the bears were active in this part of Ontario. Bill and Amber were settled in an active area situated on a mining road, while Karl and Carla were sitting in a familiar spot.
Five years earlier, Karl had made the trip up to Dog Lake for his first bear hunt and had harvested his first black bear - a bear affectionately nicknamed "Long Legs" - on the first night of his hunt. The next day Dan took his Dog Lake bear from the same stand and over the years it has produced a lot of good bears for the Backwoods Boys.
So, five years later, Karl was taking his wife into the same stand he took his first bear from, hoping she would have the same experience. It didn't take long...
On the third night of their hunt, Karl and Carla snuck into the thick Canadian bush, freshened up the bait site, and let off a can of Buck Bomb's Hickory Smoked Bacon. The wind was swirling around them, so the Bear Bomb provided much needed cover scent. As he climbed up into the stand the smell of Hickory Smoked Bacon filled the air.
They had no sooner gotten settled in the stand when a big Ontario boar peaked his head out of the brush downwind of the treestand.
Carla settled the bow waiting for the big boar to present a good shot. She'd have to wait for a while though...
After about 20 minutes of feeding around the barrel, he left without ever presenting a shot. Carla lowered the bow as her heart sank in her chest. As quietly as he could, Karl leaned over and reassured her that, sooner or later, he'd be back.
Patience is key when you're bear hunting. A bear is a tough animal, and taking questionable shots shouldn't be an option. Bear guides position stands, baits and shooting lanes to provide the bear hunter with multiple shot opportunities. And Paul Delpino has it down to a science.
Sure enough Carla's patience paid off. After about 5 minutes, her bear made his way back in to feed a little more. After what felt like an eternity, he presented a broadside shot and then took a step forward, obscuring his vitals behind a tree. And then, he left again.
Carla was a nervous wreck. She was afraid that might be the last time she got to see him. But twenty minutes later, he came back.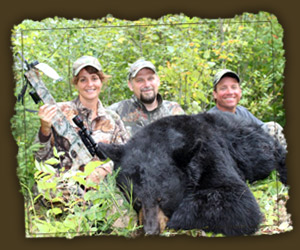 Once again Carla settled in behind the Excalibur, patiently waiting for the right shot. When he stepped broadside in front of her, she sent a FireBolt screaming through the air and into her Ontario bear's pump house. She had taken her first bear from the same stand Karl had taken his first out of.
Meanwhile, 10 miles away, Bill and Amber were playing a waiting game of their own. A long-legged Ontario boar had set up camp in their bait site and positioned himself in such a way that she couldn't get a shot. With daylight fading fast, they could only hope that he would make a move soon.
Once again, patience paid off. As the big Ontario bear repositioned the barrel for a better angle, he gave Amber a picture-perfect shot. And she took advantage of it, touching the trigger on her Excalibur and launching her FireBolt at 350 fps right into the sweet spot.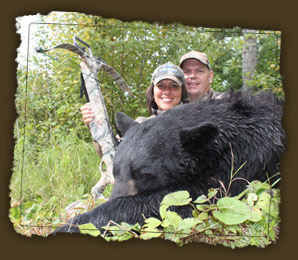 With Carla's bear already in the back of the truck, they made their way to pick Bill and Amber up. As they crested a hill, they could see, some 300 yards away, the glowing red light of Amber's Lumenok, signaling the end of a really good day.
Whether you're a first-time bear hunter, a seasoned veteran, or you're looking for a place to take your wife on a bear hunt, you owe it to yourself to check out Black Bear Adventures at Dog Lake Resort. There's a reason why we call it a home away from home, and now the girls know why too.
Watch the video of Carla's hunt on BackwoodsTV, and look for the full experience on Excalibur's Huntin' the Backwoods beginning in January, 2012.