The Backwoods Boys are at it again!
The last few months have been a flurry of activity. With two new DVD releases, you're sure to find something you like.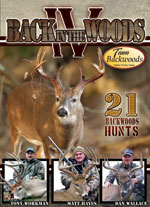 Team Backwoods is proud to announce the release of the latest in the Back In The Woods Series - Back In The Woods IV. We had a great season filming hunts in Ohio, Kentucky and Indiana, and now you can enjoy it with us.
This latest DVD features 21 whitetail hunts including Tony's Kentucky Bruiser, Matt's Indiana Muzzleloader Buck, and Dan's Ohio Excalibur buck. You'll also see Bill Troubridge from Excalibur Crossbows take a monster buck during the rut.
Back In The Woods IV is available now in the Backwoods Store as well as at consumer shows.
Bears In The Backwoods
We've also recently released our first ever Bear DVD Bears In The
Backwoods. After 3 seasons of filming whitetail hunts, we thought it might be nice to have a change of scenery... so we packed our bags and headed north.
This DVD is packed with 14 Black Bear hunts in Ontario, Alberta, and Quebec and is available now in the Backwoods Store.
Keep your eyes out for our next release... compiling the best crossbow hunts from the last couple years - Excalibur's Crossbow Compulsion will be released in March 2008.