The 2009 spring bear hunting season in Canada was especially good to the Backwoods Boys. This spring we packed up and travelled north to Manitoba, Saskatchewan, and Newfoundland, chasing those big, old black bears. And boy did it pay off!
Bear Track Outfitters: Manitoba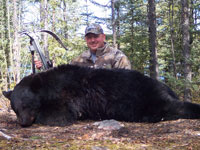 Dan Wallace and Paul Payne were up first, heading to hunt with Ron Dare at Bear Track Outfitters in northern Manitoba. On the second day of the hunt, Paul scored on a big 300 pound Manitoba bruin, and the very next day Dan took another big black bear.
The boys spent the rest of the week tagged out, but sitting in treestands gathering video of more than 13 different bears.
Bear Paw Outfitters: Saskatchewan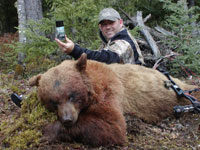 Next up were Jerry Niffenegger, Jim Radtke, and Bill Goodin. The boys travelled up to hunt with Brad Cramer at Bear Paw Outfitters and met up with the boys from Buck Bomb for a week-long hunt. All together the Backwoods crew harvested five black bears including two color-phase blonde bears. Perhaps the most impressive, though, was Jerry's 350 pound blonde bear. You can watch his hunt on BackwoodsTV. Watch the hunt on BackwoodsTV.
Bruins Claw Outfitters: Saskatchewan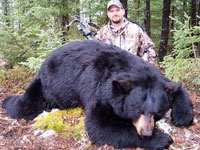 The week after the boys were up at Bear Paw, Dan Wallace, Karl Metzler, Eric Edwards and Chuck Tincher met up with Excalibur's Rob Dykeman and Exmark's Dave Bomers and headed way up north in Saskatchewan - 9 hours north of Saskatoon - to hunt with Bjorn Wieppert at Bruins Claw Outfitters. Even though they had to deal with cold, snow, ice, and rain the boys were able to use the Buck Bomb to entice 6 bears into effective killing range, including Karl's 460 pound monster bear.
Newfoundland Adventures: Newfoundland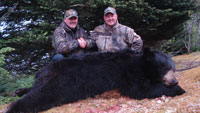 The very next week, Dan Wallace and Matt Hayes travelled out to their home away from home - Newfoundland Adventures. For the second straight year, Todd and Laura Wiseman had the bears rockin' on the bait sites, and on the third day, Dan scored on a big Boone & Crockett Newfoundland black bear. Not too long after, Matt harvested a good bear with his Alpine archery equipment.
All together the Backwoods Boys harvested 15 black bears during the spring season. But we're not finished yet... The fall bear hunting season in Ontario is right around the corner and we've already got hunts scheduled in Northern Ontario. Be sure to head over to the image gallery to see some of the pictures from our bear seasons and visit BackwoodsTV to catch some of the hunts.
These hunts and many more will be included on the upcoming Bears In The Backwoods 3 scheduled to be released early in 2010. You can also catch plenty of bear hunting action on our television show Excalibur's Huntin' the Backwoods.