Dan and I just returned from an action packed week of bear hunting in Newfoundland with Newfoundland Adventures. We were extremely excited about this hunt after a little research on the internet revealed how big the island bears are. Both Dan and I scored big by harvesting two awesome bears.
Newfoundland Adventures has been guiding hunters to monster bears, woodland caribou, and moose for over 20 years. Owned and operated by Todd and Laura Wiseman, Newfoundland Adventures is located in an area known to have the largest black bears in the world. Newfoundland Adventures' clients have taken bears in excess of 600 lbs. and several in the 400 and 500 lb. range were taken during the spring season.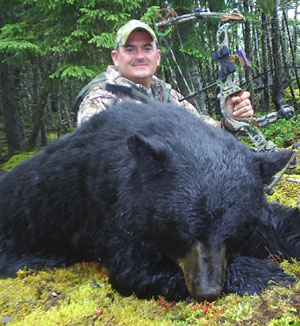 I was up to the plate first this week and scored big with my new Alpine Silverado bow. A monster headed boar weighing 306 lbs. walked within range and I harvested my first Pope and Young black bear. The bear's head green scored at 21 inches and his coat is absolutely flawless. This was the first bear that came in during the night and as soon as I spotted him I grabbed for my bow. This was only my second bear hunt and I was watching the largest black bear that I had ever seen walking towards me. It took me a few minutes to settle myself down prior to making the shot and I was relieved to see my Easton arrow passing through the vital zone. I watched this bear fall after running for only 15 yards and I nearly jumped out of the stand from the excitement.
Dan was up next and boy was he excited to try out the new Lightfield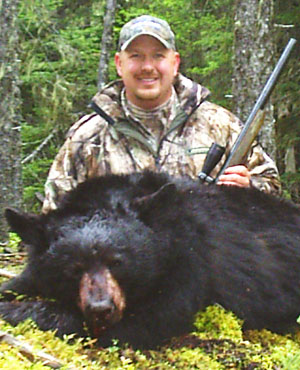 Commander IDS Plus slugs with his 12 gauge shotgun. Again, another monster headed boar stepped into the path of the Lightfield slug and the hunt was over. To say that this slug has "stopping power" would be an understatement. The 256 lb. boar was hit with a perfectly placed shot and dropped where he was standing.
I want to warn those who book a hunt with Newfoundland Adventures about the huge heads on their bears. The bears on this island have enormous heads and you must be careful in judging the size of the animal. Numerous 100 and 200 lb. bears were sighted during the week, and ALL of the bears that were seen had oversized heads. Those who are relatively new to bear hunting like myself, will definitely want to listen carefully to their guides. Todd and his staff will assist hunters with judging the size of their bears and will even sit in the stands with the hunters if requested. These guys love what they do and it will definitely show in Bears in the Backwoods II.
This was an extremely enjoyable hunt with all of the amenities of home. A more comfortable lodge will not be found anywhere in such a remote location. We were even able to catch an episode of Excalibur's Huntin the Backwoods on Wild TV after eating our steak dinner on the second night of the hunt. Newfoundland Adventures is also well known for their fall moose and caribou hunting and we will definitely be returning next year for another action packed adventure.
Special thanks to Newfoundland and Labrador Tourism and Newfoundland Adventures staff Todd, Laura, Tony, Roger, and Ted for a truly amazing experience.