Backwoods Boys Karl and Dan packed up the gear and travelled north to Big Antler Outfitters in Manitoba on a spring Black Bear Hunt, kicking off the spring season.
They spent a week in the Manitoba bush pursuing trophy black bears and gathering over 6 hours of videotape.
Big Antler Outfitters, run by Ron Chekosky, has been in business for 24 years and has continually produced big black bears. Big Antler also offers fall bear hunts as well as whitetail, moose, and waterfowl hunts. Big Antler has a lodge, cabins, as well as outpost tent camps from which they hunt. Every year they run 100 bait sites and hunt about 40 of them. Guys, the bears are all over up there. Dan and Karl saw more than 20 bears in a week, and had the opportunity to pick and choose where they wanted to hunt.
And it paid off. On Wednesday, Dan took a big-headed boar from a bait site they had staked out for a couple days during bait runs. The bait site had been hit consistently (like all of the bait sites) so there was no question where they would hunt.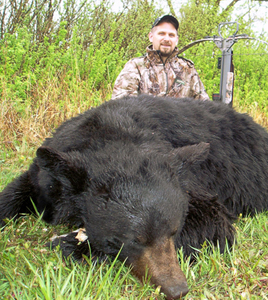 The next day, Karl took this long-legged black bear at another bait site. During daily bait runs they found a track at an active bait site that secured that spot in their minds as the next bait site to hunt. Thursday evening Karl put the Excalibur to work harvesting his second bear, easily tipping the scales over 300 pounds.
For more information about Big Antler Outfitters visit their website at http://www.big-antler-outfitters.com or give them a call at 1.866.767.2544.
Of course, both of these hunts along with the rest of the Backwoods Bear Hunts will be available on the upcoming Bears In The Backwoods II coming out late in 2008, as well as on Excalibur's Huntin' the Backwoods (on The Sportsman Channel, Wild TV, and Pursuits) in 2009.
Check back soon for more news from the Spring Bear Season. Jerry and Jim are up in Saskatchewan this week. Dan and Matt head up to Newfoundland in a couple weeks and Bill and Paul will travel to Quebec. Until then...