This article was featured in the March/April 2011 Issue of Bear Hunting Magazine.
By Paul Payne.
For the past several years my good friend Dan Wallace has made his way to the island of Newfoundland to hunt black bears with Todd and Laura Wiseman of Newfoundland Adventures. Every year he returns with recollections of a beautiful land, friendly folks, and superior bear hunting opportunities. For years he's told me that Newfoundland bears are "different," and that there's something special about this island.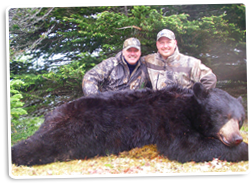 I've known Dan most of my adult life and when he formed Team Backwoods I was one of the charter members. We live and operate at ground zero of some of the best whitetail country you will find. But Dan developed a passion for black bears at an early age and if he says they're special, I believe him.
With that having been said, you can imagine my response when he invited me to join him at Newfoundland Adventures to film for Excalibur's Huntin' the Backwoods during the spring bear hunting season. After years of hearing the stories, I would now have the opportunity to experience it for myself.
Months passed as we made preparations for the spring hunt. We packed, practiced, and strategized, then re-packed, and practiced some more, until our departure date finally arrived. With gear in hand I found myself at the ticket counter checking bags and on my way to the island of monster bears.
We arrived in camp and were greeted by our Outfitter, Todd Wiseman. Since this was the last week of the Spring Season, he sat us down to discuss our strategy. As we talked, we were looking at trail camera pictures stock full of big Newfoundland bears. But when he pulled up pictures of three Boone & Crockett class bears, my knees began to shake. I was in the right place.
I tossed and turned all night, unable to get the images out of my mind. Dan had said it, and the pictures confirmed it. Tomorrow morning I would have the chance to see it first-hand.
The sun finally broke over the horizon and, after a power breakfast, we loaded up the side-by-side and made our way into the bush. The road was rough but it was of little consequence to me as we trekked two hours into some of the most scenic country I have ever seen. I was just thankful my Darton Pro 3500 was safely packed away in a SKB bow case.
Todd grabbed the bait cans, and a can of the new "Cake Icing" flavor from Bear Bomb to freshen and top off the bait site. With the sweet aroma filling the air, it wasn't long before the first bear of the evening appeared. A 6 ½ foot boar made his way through the bush in suprising silence and stood straight up on his rear legs at 50 yards to survey the site. Then, as silently as he had appeared he disappeared back into the bush. Soon after, a younger boar emerged from the woods and started playing with the Bear Bomb can while he indulged his appetite. I practiced drawing on him as he gave me every bow shot opportunity a hunter would ever want, but this was not the bear I came to Newfoundland to shoot.
Soon, he stood up and went into high alert. Here comes another bear!
The young boar scurried off and the third bear of the evening arrived. This time it was a sow, and she was closely followed by a 350 pound boar.
A sow in heat is exactly what I wanted to show up. It was the breeding season, and I thought a hot sow would attract every boar in the area. It seemed she was doing her part, but every time the big boar would approach the site, within bow range, she would chase him off. This happened over and over until she had finally had enough of him and slipped into the thick Canadian bush. The boar, of course followed right behind.
I'm in hunter's heaven, gloating over my evening's shift, when, quietly, Todd taps me on the shoulder and says, "My son we need to shoot that bear."
The biggest bear I have ever seen was closing in at 60 yards. I recall folks saying that when you see a bear the size of a Volkswagen coming through the woods, you know it's a big bear! He did. He was. But, he was well out of bow range and I could only watch him pick up and trace the sow's trail.
It was at this point that Dan and Todd reminded me that I could harvest two bears in Newfoundland. This changed the strategy in my mind, and the next evening I carried both my Darton and my rifle to the stand. I wanted that big bear, and if he pulled the same stunt as he had the night before, I'd be ready.
Day two brought as much excitement as day one. We weren't in the stand long before another big Newfoundland boar showed up. We hadn't seen this bear yet – not even on a trail camera.
He circled us twice testing the air the whole time. I was in position ready to draw at a moment's notice but he didn't seem willing to cooperate. Realizing he wasn't going to give me a shot I picked up my rifle and readied myself for a shot.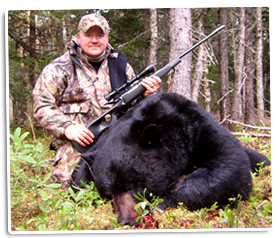 With this huge boar at 60 yards, I settled the crosshairs and touched the trigger, dropping the big boy in his tracks. It took a moment to compose myself, but I soon realized I had just taken my first Newfoundland trophy bear.
We pulled into camp feeling 10 feet tall and bullet proof to find Dan and his guide Roger with another, almost identical, boar. To say it was a good night on the island would be an understatement.
After a few moments of friendly ribbing, it was time to weigh the two studs. Todd Wiseman, our designated official scorer, weighed both bears at 445Lbs. This will be a week we'll talk about for years to come.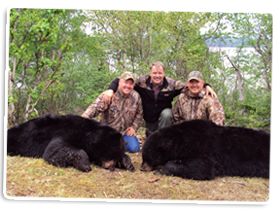 With three more days still to fill my second bear tag, I grabbed the Darton and set out for more adventure. But as luck would have it, I was unsuccessful in drawing on another bear larger than the one I had already taken. So I just admired the big ones and left the smaller ones for seed.
If you're looking for a Boone & Crockett class bear, I would urge you to contact Todd & Laura Wiseman with Newfoundland Adventures. You can rest assured that I plan to be back in camp this spring… maybe I'll see you there.