Well, the 2010 spring bear hunting season has come and gone and, once again, it was a big success for the Backwoods Boys. This season we packed our bags and headed north to Saskatchewan, Alberta and Newfoundland for trophy black bear hunting.
King Buck Safaris - Saskatchewan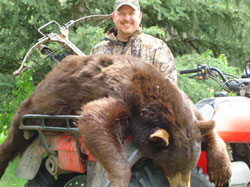 Dan Wallace and Karl Metzler travelled to Saskatchewan to hunt with Larry Leschyshyn at King Buck Safaris. The boys hit the black bear rut at it's peak and saw more than 30 different bears during the week-long hunt. Of all the bears they saw, at least half of them were color-phase black bears.
As the week progressed Dan and Karl saw first-hand how vocal black bears really are. They heard bears moaning, grunting, growling, huffing, and every other noise a black bear can make. They also saw how aggressive black bears can be, especially during this time of year.
Larry at King Buck Safaris knows black bears, and he targets big black bears for his clients. In fact, King Buck Safaris lays claim to the Saskatchewan Provincial record for black bear weight - an astonishing 737 pound black bear harvested by one of his clients. This client, and friend, has hunted with Larry for the better part of 20 years and has never harvested a black bear under 400 pounds.
Dan and Karl were hunting a 500+ pound color-phase bear all week and saw him once. He was just too far off for a shot, but, late in the week, Dan was able to put the Excalibur Crossbow to work, harvesting a beautiful 300 pound color-phase black bear.
Newfoundland Adventures
Paul Payne and Dan Wallace returned to Newfoundland Adventures this spring to hunt again with Todd and Laura Wiseman. Newfoundland is well known for its bear hunting opportunities, and especially for producing black bears with gigantic heads. When you pair up big bears and top quality outfitters like Newfoundland Adventures, you know you're in for a treat.
And this spring, the boys couldn't have been any happier...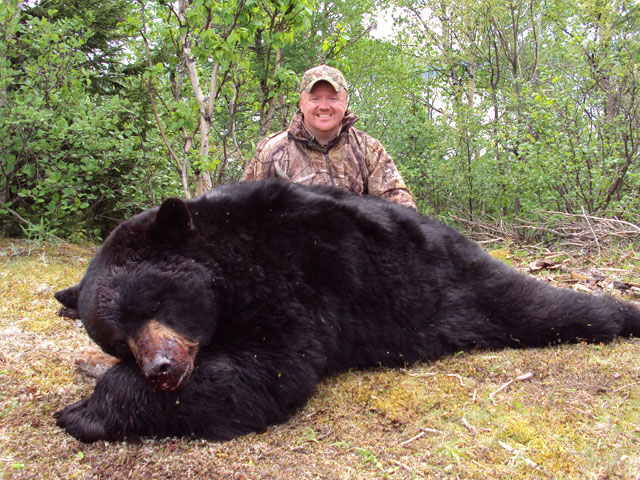 After watching a number of Boone and Crockett black bears in the distance all week, Paul was starting to wonder if luck would turn his way as the week wore on. Big bears kept coming in to his bait site, but would never commit to bow range. The Newfoundland rut was in full swing and the big boars were out looking for sows.
But, late in the week, after a change in strategy, a Boone and Crockett Newfoundland bear snuck into the site and Paul dropped him in his tracks.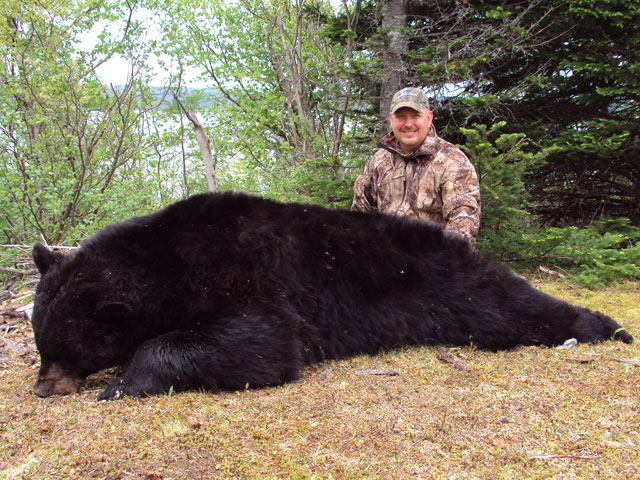 That same day, in another unit, Dan Wallace was surrounded by bears - but they weren't the Newfoundland trophy he had come to the island for. The boars were chasing sows and there was a lot of activity, but the big black bears Dan was hunting, weren't ready for the show.
After seeing 8 different bears on the same site, a mature sow slipped into the bait site with a 400 pound Boone & Crockett Newfoundland black bear trailing in behind her. Dan put the slug gun through its paces and the big Newfoundland bruin laid only a few feet from the treestand.
That's two Boone & Crockett bears over 400 pounds taken on the same night.
This is why the Backwoods Boys call Newfoundland Adventures one of their favorite destinations for spring bear hunts. The combination of beautfiful acomodations, outstanding guide services, and the quality of the animals Newfoundland offers makes it a no-doubt destination for any outdoorsman.
Look for these hunts and many more from the spring and fall bear hunting seasons on Excalibur's Huntin' the Backwoods television show and our upcoming Bears In The Backwoods 4 black bear hunting DVD next year.